Job Overview
Job Opportunities – Various Positions
Unitrans Tanzania Limited 
Dar es Salaam 
Job Description
Unitrans Africa promotes key agricultural fleet management strategies such as minimising the harvest-to-milling window for optimal crop freshness, whilst taking care to avoid destructive levels of infield compaction through carefully engineered fleeting. The minimising of mill and factory stops, along with consistent deliveries, are key aspects of our successful logistics operations.
Job Opportunities at Unitrans Tanzania Limited – Various Positions January, 2023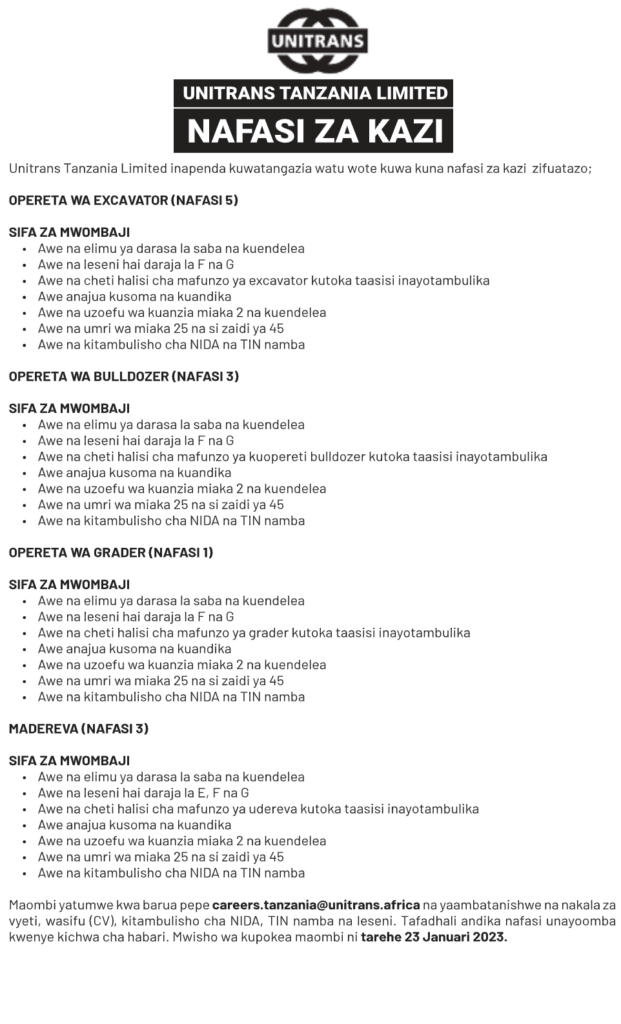 How to Apply:
Please send your CV and Cover Letter to [email protected]
Unitrans Africa has a zero-tolerance for fraud and will never charge you money for an application, interview or job offer.
The deadline for submitting the application is 23 January 2023.
Job Opportunities
Unitrans Tanzania Limited is excited to announce an array of job opportunities for those looking for a fulfilling career path. Our top 12 openings include roles for a Sales Representative, Logistics Supervisor, Accountant, Fleet Manager, Market Analyst, Regulatory Compliance Analyst, Warehouse Manager, Office Administrator, Business Development Executive, Database Administrator, Business Analyst and Business Controller.
As Sales Representative, you will play a crucial role in growing our business by developing relationships with key stakeholders and closing game-changing deals. You will lead discovery conversations to understand client needs and develop appropriate sales strategies and responses.
As Logistics Supervisor, you will be responsible for ensuring that our freight and freighting services run smoothly and on time. You will be tasked with monitoring our cargo and freight logistics, tracking shipments and troubleshooting any issues that arise.
As Accountant, you will play a key role in ensuring our financial operations are managed according to the highest standards of excellence and accuracy. You will be responsible for developing and implementing effective financial processes and procedures and reconciling financial information.
As Fleet Manager, you will be responsible for overseeing our fleet operations and ensuring our vehicles are kept in good condition and all related maintenance and paperwork is accurately managed.
As Market Analyst, you will conduct market research and analysis to identify business growth opportunities and provide strategic insights to management.
As Regulatory Compliance Analyst, you will be responsible for ensuring we meet all applicable laws, regulations and standards. You will review and monitor existing processes, collaborate with departments and management to develop best practices and coordinate audits.
As Warehouse Manager, you will lead our warehousing operations and ensure that our inventory is managed with efficiency and accuracy. You will oversee shipping and receiving operations and ensure that our warehouse follows all safety and security regulations.
As Office Administrator, you will be the face of our office and ensure that all administrative operations run smoothly. You will be tasked with managing our communication systems, processing mail, inventorying office supplies and assisting with other tasks.
As Business Development Executive, you will be responsible for driving our sales pipeline and increasing market share. You will develop and implement strategies to attract new clients and nurture relationships with existing customers.
As Database Administrator, you will ensure our databases are maintained with strict integrity and sustainability. You will be tasked with designing, building and managing database systems, managing database security and troubleshooting any database-related issues.
As Business Analyst, you will analyze our business operations and provide real-time information to managers and executives. You will be tasked with gathering data, developing metrics and reports and providing process improvement recommendations.
As Business Controller, you will manage our financial operations and make sure we are operating with the most efficiency and profitability. You will oversee our finances, develop budgets and perform internal audits.
We offer a competitive salary and an exciting work experience for any applicant looking to join our dynamic team. If you have the necessary qualifications and a genuine passion for business success, please apply today.